Prepress and design
One of the prerequisites of good print is a good prepress, which is why we made an effort to reach perfection, both in terms of technology and exceptionally qualified and experienced staff.
TECHNOLOGICAL LEVEL OF THE EQUIPMENT
Work stations: 10 (monitor hardware calibration)
Scanner: 2
CTP platesetter: 1
CTF imagesetter: 1
Plotter: 3
Digital soft proof system: 3 (gmg dot proof in accordance with Fogra ISO VR 39L standard)
Platesetting with automatic processing: 1
Preparing files for quality CTP plates
A precondition for using our services of CTP platesetting is that you have PostScrip Mako driver installed on your system. Our Company will provide you with a CD copy.
Our system works with the usual PostScript file settings, as for the imagesetting (e.g. colour setting, illegible… etc.). CTP service allows us to skip the stages previously required for making the printing plates, thus reducing costs and time required.
In addition to correct PostScrip files, you also have to submit composite PDF files, required to create colour or monochrome test prints on ozalide paper. The same file is used for colour verified proof, which guarantees quality of material printed in accordance with Fogra standard. We recommend using Adobe Acrobat Distiller for creating the PDF files. Acrobat Distiller should always be set to the "press mode".
Preparation of PS files
When preparing a Post-Script file special attention has to be paid to accurate size of the printing paper. Shorter side of the paper has to be accurately defined with clearly marked slug area. 3.5 mm on both sides may be left along longer side of the paper (e.g. exact paper size: 698×498; file size: 705×498 – see picture). CTP devices always align the file by vertical axis of printing plate. PostScript files are ALWAYS placed on the shorter side and with landscape orientation.
Besides PostScript and PDF files you have to submit  accurate information, both printed and in electronic form, about paper and plate slug area, i.e. exact start position of printing.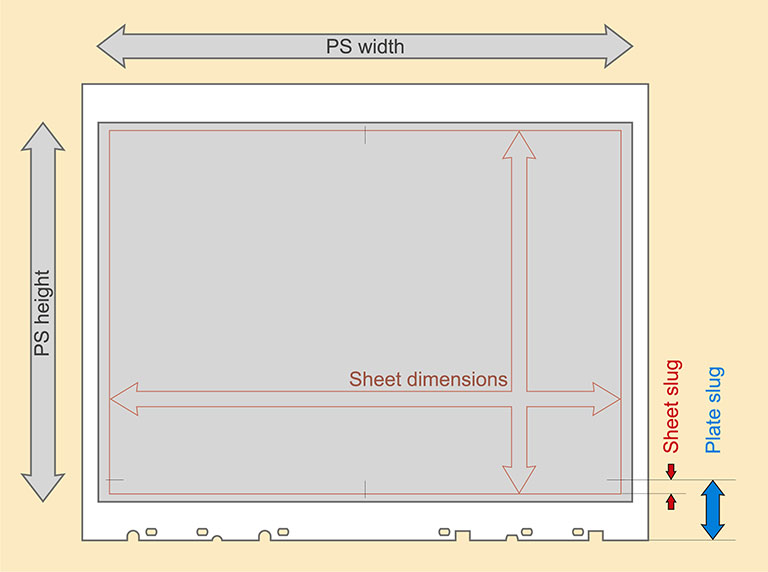 Instructions for digital prepress
Instructions for PDF preparation