CTP platesetting and imagesetting
For perfect printing plates
Thermal technology
Thermal CTP is the solution which provides top quality, extreme accuracy and reliability. Prepares plates of high sharpness and with accurate registration which allow high-end process control and quick setting of a printing machine.
Very quick and robust,  PT-R4300 model is able to continuously produce 20 plates per hour in resolutions 1270, 2400 and 4000 dpi, minimum format 324 x 370 mm to the maximum size of 830 x 660 mm.
Imagesetting
At the request of a client we are capable of successfully delivering films for any printing technique or prepare stereotypes.
Imagesetting is performed on imagesetter Mako56/ECRM with PS Level 3 RIP, which includes continuous densitometric checks of films.
Visual inspection of each file. Quick imagesetting, films prepared within 60 minutes. Film width: 310, 356, 460 and 520 mm. We perform digital sheet imposition, and files can be received online.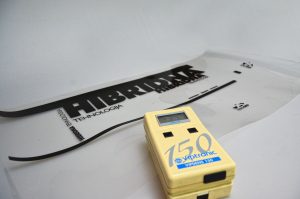 Continuous quality control for perfect printing plates
Why is measurement of printing plates necessary?
Today, when the technology advanced to the level of "computer-to-plate" process, it is obvious that quality control during prepress is necessary to achieve guaranteed quality during printing. Therefore, measurement of the right dot transfer on offset printing plates is the key segment of comprehensive process control in printing industry.
At present, plate measurement technology based on microscopic image capture and processing is the established standard.
Thanks to excellent image capture quality and ingenious graphic calculation SpectroPlate can precisely read any screen size and screen technology: FM, AM, Hybrid. The spectrally white illumination and dynamic colour evaluation permit reading all kinds of plate types.
The included Windows software connects the device to PC. Measured values and transfer curves are displayed and stored. The display of comparisons to target values, the data export to Microsoft excel and the compatibility with RIP applications are additionally useful functions of SpectroPlate Connect. An exceptional feature is the enlarged view of the microscopic images.