Soft proofs
Exceptional quality of  FujiFILM/ EPSON printers provides perfect soft proofs.
Large format soft proofs
Accurate imposition before making the CTP plates
Product control meeting all professional needs and international standards regarding soft proofs
New Light Black with eight inks set allows better than ever printing of gray scales. Fine tones and gray scale gradation on images no longer represents a problem, as well as the borderless printing.
Printers are supported by wide range of RIP software and clear printing solutions, which give you full control over the final print. Materials used include: matte, semi-gloss and glossy.
gmg ProofControl

Quality control and verification
ProofControl is a simple, yet efficient system of tools for checking and verifying quality and density of your soft proofs. Regardless whether you are a service provider, designer or photographer, Proof-Report will ensure that you and your clients are sure about the required quality of reliable soft proof.
Colour variations on soft proofs may be caused by equipment or materials, or by human error. ProofReport allows you to verify the quality before sending a reliable soft proof to the print house. Quality verification reduces costs, time and number of rejects.
gmg Color Manager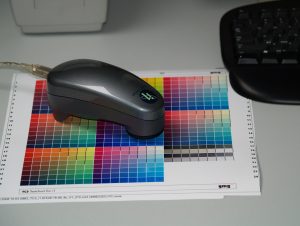 High quality colour matching
Colour reproduction is not easy. Scanners capture them differently, monitors display them differently, proofers and printing shows them differently. Human eye can also see them differently, and is very capable of noticing differences between two versions of the same image.
GMG ColorManager software ensures the best possible colour interpretation. Perfect colour distribution and matching.
Integrated dot colour adjustement.
Reliable soft proofs.
Control points of ColorManager.
Integrated printer calibrator. High-quality colour processing provided by GMG ColorManager software, which sends the data (DTP-data in Harlequin, PS, EPS, TIFF, JPEG, RGB… format) to inkjet printer. Such soft proofs allows inspection of the overall quality of the scan, image and page content.